Olive prince dance
"Bodies moving with daring honesty"
-Olive Prince
Photo Credit: Johanna Austin
Olive Prince Dance (OPD) is a project based dance company creating psychologically compelling, physically stimulating and thematically suggestive dance works. We create productions that capture striking images while celebrating dancers' movement histories to shape what transpires on stage.
Visual imagery is paramount to OPD's working process and final product. Often starting with objects, set pieces, or costuming to create ways of constructing and deconstructing their meaning throughout the choreography. Specific images act as conceptual muses and are allowed to lead aspects of the process. Imagery mingles with divergent ideas in the conceptual constellation to develop choreography that mirrors the human experience. The process creates movement that combines technical virtuosity with energetic resonance, all while utilizing classical constructs in ways that further the work.
ARTISTIC STATEMENT
Olive Prince is a conceptual artist, invested in the collaborative process, and engaged in cutting edge artistic inquiry. She is interested in weaving the choreographic process in parallel with another artist. Bodies moving with daring, honesty is her principle instrument of expression. Visual imagery is a central force that motivates her work. She wants to push the boundaries of contemporary practices to create dance that redefines her own making process.
WHAT WE'VE ACHIEVED
Olive Prince is a veteran Philadelphia performer having worked with many independent artists as well as a company member with Kun-Yang Lin/Dancers (2007-2013), and Merian Soto (2005-present) for close to a decade. Prince received her MFA in dance and choreography from Temple University where her choreography was chosen for the American Colleges Dance Festival Association's National Concert at the Kennedy Center. She has been commissioned to create dance for Kun-Yang Lin/Dancers, Group Motion, and to create site-specific work for Hobart and William Smith College's 40th anniversary of the women's studies program. She was also commissioned by Drexel University to create an original piece for students to perform at the International Night of the Singapore Youth Festival – the only American company ever to receive this invitation.
Her company has been presented at the Philadelphia International Festival of the Arts, the 2010 Live Arts Festival, the International Contemporary Dance Conference, New Dance Alliance's Performance Mix Joyce Soho, the CEC Resident Artist Series, the nEW Festival and as part of the Susan Hess Choreographer's Project where she was a resident artist. OPD's most recent work was created in collaboration with visual artist, Carrie Powell while resident artist at the Iron Factory. As an educator, Prince has taught as a full-time and adjunct faculty member at Drexel University since 2008, focusing on modern dance, composition, and improvisation. Most recently, Prince was featured in an interview on her most recent work, on WHYY's piece "Articulate with Jim Cotter".
Photo Credit: Thomas Weir
SILENCING THE TIDES
In a mesmerizing, distorted reality women become the sea as they anchor to what is known. It is an evolution of becoming with no end in site. "Silencing the Tides" is a charged, physical force of falling down, picking up, and laying yourself bare. Choreographer Olive Prince and Visual Artist Carrie Powell joined forces to create a dance and sculpture experience that submerges you in close physical proximity to the cast. The sculpture hangs above the dance creating a unique environment where dancers take themselves on a journey of cycles, fighting up and fighting out, and being a reflective pool of pinned down piles. In an intimate experience where bodies are close enough to touch, you feel what it is like to stand up against the tide.
of our remnants
"The house was under the rule of death. Every object of value had been locked away ... and on the bare walls there were only the outlines of the pictures that had been taken down. Chairs from the house, and those lent by neighbors, were lined up against the walls... the empty spaces seemed immense and the voices had a ghostly resonance because the large pieces of furniture had been moved to one side, except for the concert piano which stood in its corner under a white sheet."
This brief scene from Gabriel Garcia Marquez's Love in the Time of Cholera is the initial inspiration for this work. In collaboration with visual artist Carrie Powell, Prince recreated this image to make an atmosphere for the audience and the dance to reside in. The audience enters into the space as the sun is setting and becomes a part of the parlor scene. Dealing with unions and separations a dance emerges from compiling ideas of emptiness, isolation, and the inherent duality in life.
Twine
Specifically designed to be performed in the Blackwell Library and Fisher Center in Demarest Hall, "twine" explores the psychology of women in relation to internal power and the external gaze. The work was inspired by artist Marcel Duchamp and his experimentations with space and display. Duchamp's concept was translated in the dance by giving the spectator freedom to wander through the space, to see the actions on display, and to have actual choice over lighting the piece.
twine is about power; the power to choose what to do, what to see, and who to be. We have the power to choose our response versus repeating patterns and learned behaviors. As a community of women our goal will be to express the complexities and simplicities of power in our relationship to the space, the audience, and one another.
Under Desire
The quintet utilizes a set piece of massive ropes that drapes from the ceiling and sprawls onto the floor with original music by Christopher B. Farrell.
Premier at the Live Arts Festival – September 2010
Also presented at the Temple University Alumni Concert, Atypical Series at the Painted Bride Arts Center, and self-produced in Ties that Bind, Philadelphia, PA. 30-minute group work.
poetic passageways
The mosaic line corridors of Philadelphia's Magic Gardens, Isaiah Zagar's non-traditional visionary art environment, come to life through a series of exquisite, evocative vignettes. In Poetic Passageways, choreographer/dancer Olive Prince and composer/musician Christopher Farrell collaborate to create movement, music, and language into a site-specific performance. Interpreting the poetry, philosophy, and art of Dadaists and Surrealists such as Apollinaire, Maillarme, Breton, and Duchamp, dancers and musicians will engage guests with playful and explorative pieces that relate these works to the massive art installation that serves as their stage. Isaiah Zagar, creator of Philadelphia's Magic Gardens, drew inspiration from these historic figures for this large, visionary piece. Audiences will wander through various performance stations, interacting within both the space itself and the wondrous movements and sounds.
Commissioned by Philadelphia's Magic Gardens. Premier at the 2011 Philadelphia International Festival of Arts (PIFA) and presented at the CEC, Philadelphia Fringe Festival, and restructured for the City Space Mansion. 70-minute site-specific work with live music.
Teaching
OLIVE PRINCE offers workshops, residencies, and choreographic experiences with students of all ages and professional dancers. She specializes in workshops with elementary school students, high-school students and college students. Her specialties include teaching modern technique, improvisation, composition, site-specific choreography, workshops surrounding dance and identity, and workshops involving the creative process. Prince is inspired to create a workshop or residency experience based on the unique needs of your population.
Prince has an undergraduate degree from William Smith College in Children's Rights and Public Policy, a MFA in Dance from Temple University, and taught for 4 years as an Assistant Teaching Professor at Drexel University.
Teaching Philosophy
My educational philosophy is centered upon the belief that teaching is an art form. I construct my lessons with craft and intention to develop academic and artistic excellence that honors both the product and the process of learning. I approach students as whole beings. As dancers, performers, choreographers, and scholars, students are asked to engage with the course content, their lived experiences, and the social constructs in which they live. I strive to create an educational structure where students not only gain knowledge of a subject matter, but also learn skills to critically engage in the world.
At the core of my educational philosophy is the firm belief that the body knows. I train dancers to trust their bodies by developing technical, improvisational, compositional, and performance skills that engage their kinesthetic and intellectual knowledge. I also develop lessons that utilize the students' experiences, expressions, and knowledge as points of departure for learning. I strive to foster an environment where students can be diligent about locating and exercising their own artistic expressions.
I approach my students as an embodied educator with the freedom to use the energy of the group as a partner, not merely as receivers of information. I set high academic standards and use diverse teaching strategies to help my students achieve their personal best. I believe that the classroom can be a spirited, lively place where students have the space to interact with one another while engaging with the material. Just as we accept both the pure pleasure of movement of the cognitive activity of discussing art, we mustn't forget that education can be both pleasurable and knowledgeable.
Photo Credit: Thomas Weir
Media
WHYY's The Articulate: Olive Prince Segment
Reviews
FEMININE PLURAL: OLIVE PRINCE DANCE by Rhonda Moore, for thINKingDANCE September 17, 2017
"Olive Prince's Silencing the Tides takes you about as far from keeping quiet as one can get."
"Silencing the Tides mimics the power, malleability, and willful nature of the sea. Like the calm before the storm, slow crawls and pedestrian movements build until the women are tossed, pushed, or thrown across stage by an invisible, yet greatly-felt wind. They purposefully roughhouse, see-sawing between preparing for battle and delightful abandon in play. Each one has something particular in mind and body, all fodder for the mix. Separate, yet united; independent, yet fiercely collaborative, these women celebrate feminine collectivism in all its aspects."
MOVING AGAINST THE TIDES WITH OLIVE PRINCE by Isabella Siegel, for FringeArts August 9, 2017
"The show is based on the idea of free will, juxtaposed with messages and metaphors from nature. She evokes strong images of the ocean's tide, many of the ideas growing from the feeling of sand and the changing nature of the waves. The dancers sway between working together as large forces, and breaking out into their own movements. Sometimes calm, sometimes violent, they may break down barriers as if they were bodies of water, or they may escape each other as if they were sand."
TWO WORTHY NEW DANCES MADE LOCALLY
by Merilyn Jackson, for the Philadelphia Inquirer
September 11, 2010
8: Olive Prince and Shavon Norris. Olive Prince, a delightful dancer, choreographed quite a good piece Thursday evening with I Desire, one of eight new works by local choreographers for the Live Arts Festival. The pieces are being presented in four sets of two.
SURREALIST DANCERS BEND AND BABBLE IN POETIC PASSAGEWAYS
by Aaron Stella, for the Philly Broadcaster
June 17th, 2011
The grand staircase at CITYSPACE's offices, located at 2200 Walnut St., was the playground for a wiredrawn, surrealist labyrinth, where a quartet of dancers from the Olive Prince Dance Company performed "Poetic Passageways" last week. Olive Prince, local dance experimentalist, had reconfigured "Poetic Passageways" for the spiraling umber staircase at CITYSPACE's Victorian mansion, which (to give you a sense of grandeur and scale) was built by Philadelphia Museum of Art and City Hall architect John Hutton.
For Prince, the surrealist movement, which was the main inspiration for "Poetic Passageways", was, "about playing games and incorporating all disciplines of art and expression."
DREXEL PROFESSOR TAKES STUDENTS TO SINGAPORE
By Jess Fuerst, for the South Philly Review
July 7, 2011
Though Singapore carries a reputation for rigidness, 12 dancers led by Eighth-and-Fitzwater-streets resident Olive Prince will touchdown in the country later this month and express themselves freely. The group, part of Drexel University's Dance Ensemble, will be performing Prince's piece "Sea of Glass" as part of the 45th annual Singapore Youth Festival.
"It's an international youth festival and we are the only group that is coming from the United States," Prince, 33, said. "There are companies coming from Australia and China, from all over really. It's about the students and their creative work, and youth being creative and having a creative discussion. And celebrating those things."
OLIVE PRINCE'S 'SERENADE'
by Jim Rutter, for the Broad Street Review
June 15, 2009
In ten powerful minutes, Olive Prince's erotic and psychologically perverse Serenade brought racing back some of the most painful (as well as some of the best) moments of my existence— moments that, like the intense experience watching her choreography, I wouldn't replace for the life of me.
When my sister and I were kids, my dad used to hold us on his knee and sing, "You are my sunshine, my only sunshine." Did anyone hearing that song ever pause to think what it's like to lose your "only sunshine"? Olive Prince's overpowering Serenade made me feel just how devastating it must be. Her physically erotic and psychologically perverse ten-minute piece sustained itself with a manic intensity that was just short enough to endure.
TIES THAT BIND AT THE PAINTED BRIDE
by Carolyn Merritt, for thINKingDANCE
December 14, 2011
Prince's Under Desire began with a post-apocalyptic figure methodically navigating the dark stage in plié, releasing smoke from a lunchbox-size machine until the space teemed with a misty fog. The lights revealed Jennifer Rose in a short white dress covered in indecipherable writings. A powerhouse and flawless technician, Rose shifted from razor-sharp isolations to rapid-fire scribblings, as if working out an equation in the sand. Silent pleas displaced jutting limbs as she mouthed unheard words, while stunning extensions, breakneck turns, and a pulse-stopping drop to the floor shocked in their precision and beautiful violence.

When the stage went black and Rose disappeared, Prince, Morley, Elizabeth Reynolds, and Caitlin Hellerer surfaced through the fog, entangled in a series of ropes hung from the ceiling. Their hair teased, heavily made-up, white costumes covered in scribbles, faces conjuring drunken yearning, the dancers moved in a constant furor. To the motor of Christopher Farrell's electronic score and their own breath, they tumbled across the floor, grasped for air, and propelled into every inch of space. While the movement excited, desire here seemed otherworldly and always out of reach, and I wondered at the unchanging desperation of the piece.
Photo Credit: Thomas Weir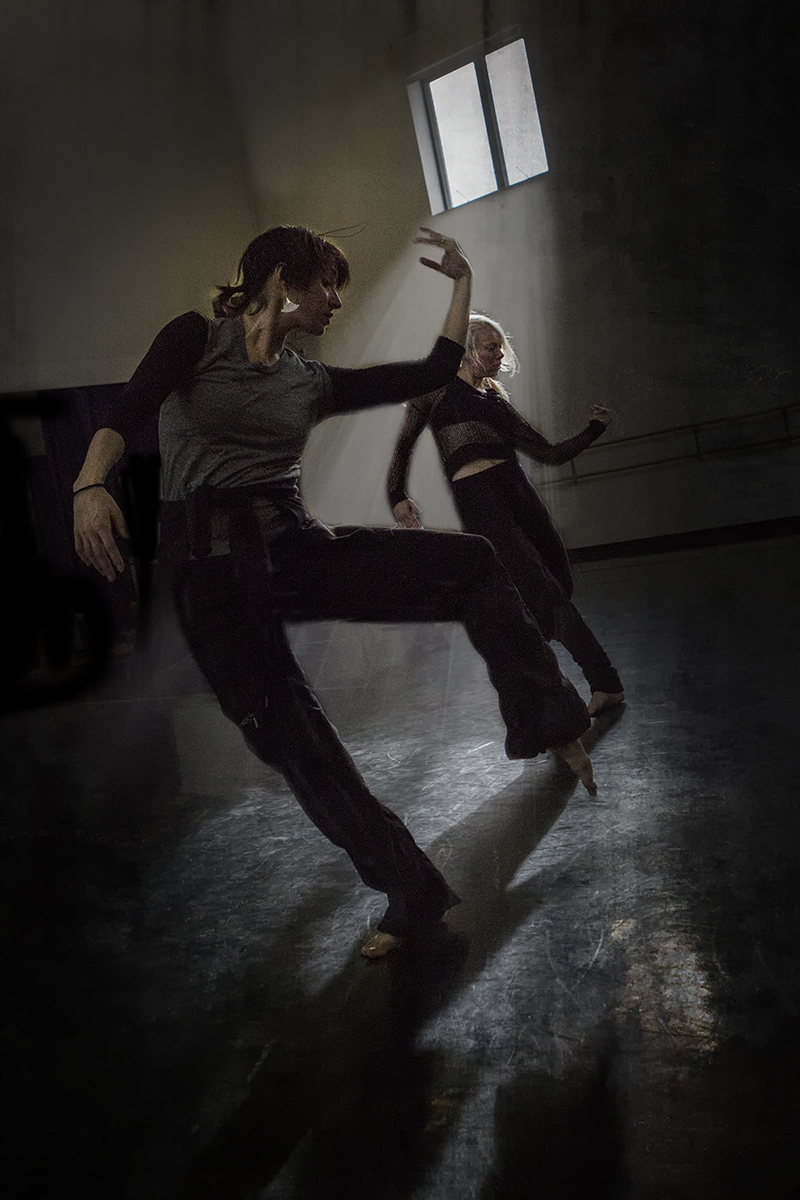 To donate to our hatchfund campaign...